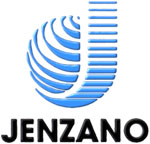 sales@jenzano.com
Telephone: (386) 761-4474 USA

Model MBW
Miniature Bench Welder

The miniature bench welder is the self-contained assembly solution to serve your light welding applications. The design offers efficiency of space and cost,
as well as flexibility and ease of set-up due to the
Sub-Plate assembly. Each unit is shipped ready for production welding.
Features
3KVA / 240 volt transformer

60 Hertz operation

Free standing aluminum housing (dimensions: 3" x 10" x 15")

Two posts and linear shafting with insulated guide bushings for smooth electrode motion

1 1/16" bore x 3" stroke weld cylinder

Adjustable stroke

3" x 7" lower buss weld area

Air filter

Air-cooled SCR

Jenzano Microprocessor controller

Weld valve

Single stage foot-switch

Adjustable air speed controls

Air pressure regulator

Weld head and control cabinet mounted on 1/2" x 18" x 23" aluminum plate

Table-top design

OSHA industrial blue finished control cabinet

Operator's manual
Specifications
Input voltage: 240V +/- 10% - 30 Amp.

Input frequency: 50/60 Hz

Stroke: 0" - 3"

Throat depth: 3 ¾"

Weld Force Multiplier: .886 (60 psi = 53 lbs. force)

Dimensions (HWD): 23 ½" x 23" x 18"

Weight (approximate): 175 lbs.
Options
Additional head configurations

Various weld force and stroke options

5 KVA / 240 volt transformer

Other primary voltages

Specific part tooling

Water / coolant saver (solenoid valve)

Circuit breaker (prices and sizes to be determined in accordance to application)

2 stage foot-switch

Deeper throat

Water / air heat exchanger for tooling
Power requirements must be verified at the time of purchase. Specifications are subject to change without notice. Customer assistance in evaluating proposed application is available. Photographs shown are typical configurations and do not necessarily represent the standard product.