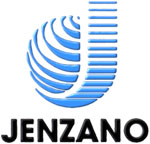 sales@jenzano.com
Telephone: (386) 761-4474 USA

Model B2T1, B2T2 & B2T3
Die-Set Tooling

This design utilizes a unique method of welding by combining tooling die-sets with welding application. This allows for a wide range of possibilities in the project, spot, and hot up-set welding fields, such as:
Quick Change Tooling
Tool & Die accuracy
Short run flexibility
Adaptive Tooling
RUGGED, PRECISE, FLEXIBLE
Features
Freestanding two and four-post copper die-set

Stainless steel linear shafting with insulated guide bushings for smooth electrode motion

4" bore x ¾" stroke weld cylinder

B2T1: two post die-set with optional tooling

B2T2: four post die-set with extended horn spot weld tooling

B2T3: two post die-set with splice welder tooling
(From Left to Right: B2T1, B2T2, B2T3)
Specifications
Stroke: 0" - 3/4" (additional stroke available)

Weld Force Multiplier: 12.57 (60psi = 754 lbs force)

Weight (approximate): 50 Lb

Dimensions (HWD)

B2T1: 11 3/8" x 6 1/2" x 6 7/8"

B2T2: 11 3/8" x 6 3/4" x 11 1/4"

B2T3: 11 3/8" x 6 1/2" x 6 7/8"

Options
2" to 5" bore weld cylinder

Additional weld cylinder stroke

Adjustable retract stroke cylinder for multi-positioning

Custom tooling designed for the current job

Power requirements must be verified at the time of purchase. Specifications are subject to change without notice. Customer assistance in evaluating proposed application is available. Photographs shown are typical configurations and do not necessarily represent the standard product.