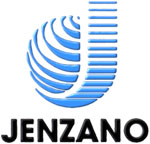 sales@jenzano.com
Telephone: (386) 761-4474 USA

Model XYZ
XYZ Adaptable Motion Accessory

Jenzano has introduced the XYZ Adaptable Motion Accessory as a complement to the H2PW welder. The concept of this accessory is to have a way to implement motion as an easily installable modular subsystem. The applications for the XYZ accessory are endless; such possibilities are spot welding, projection welding, hot upsetting (staking) and seam welding.
RUGGED
Features
PLC controller: Allen Bradley Control Logix

HMI: Allen Bradley Panel View Plus (color/touch screen)

PC remote HMI: Rockwell Automation RS Studio

Company network connectivity (ethernet)

Servo motors are controlled via an Ultra 3000 SERCOS interface

Programmable for location function using easy location teach input (no programming required)

Test and setup functions

Roller screw for Z axis

Roller bearing slides (different sizes for different applications)

Low-maintenance ball screw bearing slides

Large, isolated tooling plate

Force system support (forces are contained without need of massive components)

Low profile design so that there is minimal height used

Light weight and small footprint so that setup and use are simplified

Absolute encoded motion (no homing required)
H2BW shown with XYZ motion accessory
Specifications
X Motion

Distance: 18"

Speed: 24 in/sec

Load: 300 lbs.

Y Motion

Distance: 18"

Speed: 24 in/sec

Load: 300 lbs.

Z Motion

Distance: 6"

Speed: 10 in/sec

Load: 3,000 lbs.

Motion repeatability: +/- 1/32"

Duty cycle: 20 welds in 30 sec
Options
Special tooling

Monitoring sensing

Dual machine interlocks
Power requirements must be verified at the time of purchase. Specifications are subject to change without notice. Customer assistance in evaluating proposed application is available.