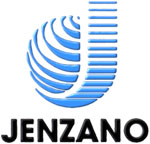 sales@jenzano.com
Telephone: (386) 761-4474 USA

Model S2
Set Down Module

The Jenzano Model S2 offers continual and reliable track set-down, effective weld application processes, and rapid reset to baseline of known "good weld" process. Its flexible brackets allows configuration with most welders, and the S2 module can be installed permanently, or remain a portable unit. Programming and extensive wiring are not required.
Features
Rugged, self-contained construction

Easily installed transducer mount and push rod bracket

Prevents false readings due to variations in projections, electrodes, material, etc. (The unit resets to "0" after electrodes make contact with part under pressure, rendering an absolute value for the set-down of each weld.)

Unit can be powered with 12-24 VDC power supplies or with a provided 110 VAC plug-in adapter

R232C output cord may be attached to PC or printer for continuous recording of set-down for SPC purposes

"Go"/"No Go" output can be used to interrupt production and/or trigger an annunciator if an out-of-range set-down occurs

Audible/visual warning of out-of-range set-down

Unit will hold the last value in the readout until the hold is released by initiation of next weld cycle

Set-up and operator's manual

Transducer is mounted with frangible screws to prevent damage in case of over-travel condition

Transducer module has HI, GO, LO outputs

Push rod assembly is fully adjusted to accommodate different weld stroke positions

Unit can be provided in a variation of power supply voltages
S2 Weld Monitor Unit installed on H2PW
Specifications
0.01 mm to 0.005 mm resolution selectable (0.0005" to 0.0002")

Maximum acceleration at 2750 m/sec2
1/2" range linear transducer
Shipping weight (approximate): 30 lbs.
O
ptions
Compact printer designed specifically for use with this linear transducer module, utilizing the R232C output port on the module (SPC functions)

Two channel model

BCD output

Weld production interrupt in the event of an out-of-range set-down

Process control interlocks (PLC based)

Operator display panel interface

Jenzano Senscope® interoperability

Field installation
Power requirements must be verified at the time of purchase. Specifications are subject to change without notice. Customer assistance in evaluating proposed application is available.