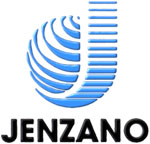 sales@jenzano.com
Telephone: (386) 761-4474 USA

Model P7S7OI
Programmable Sequencer With Operator Interface

The Jenzano Model P7S7OI is a high quality motion controller that allows for continuous and reliable tracking of production quality. It also affords effective development of all types of X, Y process applications, including welding.
RELIABLE

EFFICIENT

USER-FRIENDLY
Features
Single control cabinet with integrated motion and sequence control

Modular 24 VDC I/O

Remote operator interface panel with touch screen display

19 programs with up to 25 steps each

Password-protected to prevent unauthorized program modifications

Part number display for active program

Easily programmed using immediate operation menus and touch screen

Orderly stop routine

Scaling ability for XY tables using a different pitch

4 outputs with programmable on/off

4 "wait for input" on/off inputs

Programmable delays

Linear interpolation ability

Jog

Internally fused

Set-up and operator's manual
P7S7OI Shown With X, Y Table
Specifications
Control type: 3-phase

Input voltage: 220 or 480 VAC +/- 10%

Input frequency: 60 Hz

Service: 30 Amps

Control enclosures (HWD): 24" x 24" x 12" (weight: 80 lbs.)

Interface enclosures (HWD): 8" x 12" x 4" (weight: 15 lbs.)
Options
X, Y tables

Selection of AC brushless motors

Expanded I/O channels

Custom macro functions

Circular interpolation

Frame for X, Y tables

Pedestal stand for interface

Printer

Field installation
Power requirements must be verified at the time of purchase. Specifications are subject to change without notice. Customer assistance in evaluating proposed application is available.