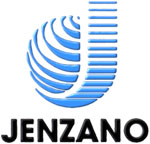 sales@jenzano.com
Telephone: (386) 761-4474 USA

Model M1C1W
Capacitive Discharge Welder

The Jenzano Model M1C1W Capacitive Discharge Welder offers many applications for your welding needs:
Spot welding of low resistance materials (aluminum, brass, copper, etc.)

Pre-tack for high temperature oven brazing

Stud welding

Brazing

Percussion welding
Features
Programmable AC controller (model JCR)

100 to 1000 watt seconds

1 to 4 seconds charge time

Patented transformer couple output

Safer than traditional capacitive welders

Remote initiation

Requires less than 20 Amps @ 220 VAC

Safety relay

5 ft. power cord

Operator's manual
Typical M1C1W Capacitive Discharge Welder
Specifications
Control type: Single Phase

Input voltage: 240 VAC +/- 10%

Input frequency: 60 Hz

Enclosure (HWD): 16" x 20" x 20"

Weight (approximate): 175 lbs.
Options
Power requirements must be verified at the time of purchase. Specifications are subject to change without notice. Customer assistance in evaluating proposed application is available.