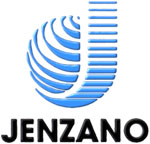 sales@jenzano.com
Telephone: (386) 761-4474 USA

Model JCR2SF
AC Programmable Welding Controller

The Jenzano Model JCR2SF is a low-cost replacement control without valve outputs, display or keypad. It does have serial port weld schedule programming, which is intended to control the weld current profile only with machine movements and operator interfacing, controlled by external devices such as PLC's or PC's.
Features
Basic, compact and simple with unpluggable wiring connectors for quick replacement

Internal 120 VAC input power supply (supplies all control voltages)

Simple opto-coupled single input weld initiation

2 opto-coupled open collector outputs for "weld busy" and faults handshaking

Led for visual power on/fault indication

RS-232 interface for weld parameter setup with up/down loads and schedule changes

Selectable weld/no weld mode

Flash memory (no batteries required)

Crystal control weld timing synchronized to power line frequency

On-board power supply fusing

100 selectable weld schedules

Programmable squeeze time

Programmable weld time

Programmable % weld current

Programmable hold time

Programmable pulse and cool times

Programmable slope up/slope down functions

Combination code lockout of all parameters (except overrides, if desired)

% weld current override with programmable maximum available in all modes (not locked out)

Selectable line voltage compensation: on or off
Specifications
Control type: single phase

Input voltage: 120 VAC +/- 10%

Input frequency: 60/50 Hz

Timed periods

Weld time: 00 to 99 cycles

Clamp time: 00 to 99 cycles

Squeeze time: 00 to 99 cycles

Hold time = weld time (00-99 cycles)

% weld amps: 05 to 00% max KVA rating

Heat override: +/-0 - max override setting %

Max heat override: 00 to 10%

Upslope time: 00 to 99 cycles

Initial slope up % heat: 05 to 99%

Downslope time: 00 to 99 cycles

Final slope down % heat: 05 to 99%

Repeat mode: No or Yes

Off time: 00 to 99 cycles

First spot override: 00 to 99%
Note: The following are global varieties that remain the same in all schedules: HDN squeeze time, RPTMDE repeat mode (splice, spot, seam or stake), weld/no weld, PFDLY power factor delay, 87D first cycle max phase angle limit on/off, LVC on/off, weld counter. Power requirements must be verified at the time of purchase. Specifications are subject to change without notice. Customer assistance in evaluating proposed application is available.