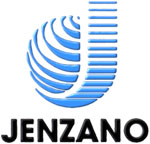 sales@jenzano.com
Telephone: (386) 761-4474 USA

Model IH1C2.5KW
Induction Heater

The Model #IH1C2.5KW Induction Heater has numerous applications:
Soldering

Brazing

Copper, aluminum, brass, steel, special alloys

Heat treating

Curing

Adhesive bonding

Hot upsetting

Stress relieving

Deep hardening

Surface hardening

Shrink fitting

Plastic joining

Tempering
EFFICIENT

EASILY INSTALLED

LOW MAINTENANCE

RUGGED & RELIABLE
Features
Compact, light weight unit

100% solid state auto-tracking oscillator

Bench mounted

Isolated foot-switch or push button initiation

Microprocessor controlled (JCR weld controller)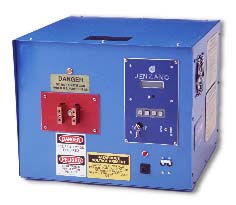 Typical Model IH1C2.5Kw Induction Heater
Specifications
Operating frequency range: 250 to 750 KHz

Nominal frequency: 450 KHz

Output heating power: 2.2 KW (nominal)

Input power: 3 KW maximum

Automatic current limiting

Input voltage: 240 VAC @ 60 Hz, Single Phase

Maximum efficiency: 73%

Enclosure (HWD): 16" x 20" x 20"

Weight (approximate): 130 lbs.
Options
Inert gas chamber

Production work coils

Production tooling

Production fixtures

Heat exchangers

Heat treat and quench tank

Automatic and manual shuttle fixturing

Work stations

Installation and training
Power requirements must be verified at the time of purchase. Specifications are subject to change without notice. Customer assistance in evaluating proposed application is available.