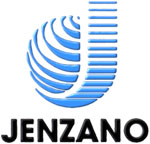 sales@jenzano.com
Telephone: (386) 761-4474 USA

Model HCD
High Energy Capacitive Discharge Welder

The Jenzano High Energy Capacitive Discharge Welder offers many applications for your welding needs:
Spot welding of low resistance materials (aluminum, brass, copper, etc.)

Pre-tack for high temperature oven brazing

Stud welding

Brazing

Percussion welding
FAST

RESOURCEFUL

PORTABLE
Features
Up to 1000 watt seconds

1 second charge time

Fast rise time

Portable

Patented transformer coupled output

Safer than traditional capacitive discharge welders

Panel or remote initiation

Requires less than 20 Amp. @ 220 VAC
Typical High Energy Capacitive Discharge Welder
Power requirements must be verified at the time of purchase. Specifications are subject to change without notice. Customer assistance in evaluating proposed application is available.