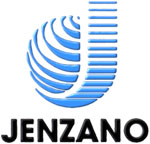 sales@jenzano.com
Telephone: (386) 761-4474 USA

Model H3BW
Heavy Duty Bench Welder

The Jenzano Heavy Duty Bench Welder is a multi-purpose spot OR projection welder that offers a heavy duty, reconfigurable design. The bench design and the ability to use multiple units in unison allow for maximum flexibility while minimizing floor space requirements. Boasting T-slotted upper and lower plates and a precision roller bearing slide, Model H3BW affords optimal efficiency.
MULTI-PURPOSE

SPACE-EFFICIENT

FLEXIBLE
Features
440 Volt, 35 - 90 KVA single-phase transformer

50/60 Hz operation

Rigid or freestanding

Spot or projection weld head

Upper and lower T-slotted #1 platen

Long-life laminated shunt construction

Wide selection of stroke weld cylinders

Roller bearing guided slide

Weld valve with regulator

Adjustable air speed control

Control contractor option required
Specifications
Input voltage: 480V +/- 10% - 200 Amp

Input frequency: 50/60 Hz

Stroke: 0" - 4"

Throat Depth (approximate): 10.5"

Throat Height (approximate): 9"
H3BW machine shown with options
Weld Force Multiplier: 28.27 (60psi = 1696 lb. force)

Max weld force: 4000 lbs.

Dimensions (HWD): 35" x 9" x 40"

Weight (approximate): 600 lbs.
O
ptions
Two-stage foot switch

Various force systems (cylinders)

Dual palm buttons

Special tooling

Single head table stand

Electric resetting parts counter

Coolant saver (solenoid valve)

Welding controls available for: Entron, Jenzano, Robotron, WTC and other manufacturers

Dual machine interlocks

Adjustable retracts stroke cylinder

Water/air heat exchanger

Weld set down monitoring

Spot welder horns

Assembled/tested SCR contractor panel
Power requirements must be verified at the time of purchase. Specifications are subject to change without notice. Customer assistance in evaluating proposed application is available.