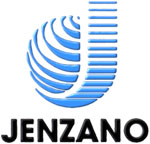 sales@jenzano.com
Telephone: (386) 761-4474 USA

Model H2PW3
Heavy Duty Press Welder

The Jenzano Heavy Duty Press Welder is a versatile machine that serves as either a spot or projection welder. With adjustable controls and reconfigurable options, this machine can adapt to your current and future needs.
Features
440 Volt, 250 KVA Single Phase transformer

50/60 Hertz operation

Upper and lower "T" slotted #3 RWMA platen

Long-life, laminated jumper construction

6" bore x 4" stroke weld cylinder

Filter, regulator, lubricator

Roller bearing guided slide

Weld valve with regulator

Adjustable air speed control

Freestanding design

Spot or projection welder

Adjustable lower knee

"T" slotted upper and lower platens

Adjustable ram

Precision roller bearing slide
Specifications
Input voltage: 480V +/- 10% - 400 Amp

Input frequency: 50/60 Hz

Stroke: 0" - 4" (Adjustable)

Throat Depth: 16" Nom.

Throat Height (between platens): 6" - 20"

Weld force multiplier: 28.27 (60psi=1696lb.force)

Dimensions (HWD): 99" x 40" x 60"

Weight (approximate): 3500 lbs.
H2PW3 machine shown with options
O
ptions
2 or 3 stage foot-switch

Remote tap switch

Circuit breaker

Special Tooling

Water flow sight gauge

Electronic resetting parts counter

Coolant saver (solenoid valve)

Entron, Jenzano, Robotron, WTC and other manufacturers' weld controls

Dual machine interlocks

Adjustable retract stroke cylinder (2 position)

Water re-circulator

Weld monitoring

Weld set down monitoring

"Part Present" sensing

Spot welder horn

Assembled/tested SCR contractor panel

440 Volt, 150 KVA single-phase transformer

440 Volt, 500 KVA single-phase transformer

150 - 500 KVA transformer
Power requirements must be verified at the time of purchase. Specifications are subject to change without notice. Customer assistance in evaluating proposed application is available.