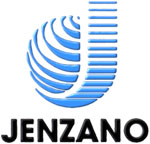 sales@jenzano.com
Telephone: (386) 761-4474 USA

Model H2BW
Heavy Duty Bench Welder

The Jenzano Heavy Duty Bench Welder is a multi-purpose spot OR projection welder that offers a heavy duty, reconfigurable design. The bench design, and the ability to use multiple units in unison allow for maximum flexibility while minimizing floor space requirements. Boasting T-slotted upper and lower plates and a precision roller bearing slide, Model H2BW affords optimal efficiency.
Features
440 Volt, 80 KVA single-phase transformer

50/60 Hz operation

Rigid or freestanding

Spot or projection weld head

Upper and lower T-slotted #1 platen

Long-life laminated shunt construction

6" bore x 4" stroke weld cylinder

Air filter

Roller bearing guided slide

Weld valve with regulator

Adjustable air speed control

Operator's manual

Control contractor option required
Specifications
Input voltage: 480V +/- 10% - 200 Amp

Input frequency: 50/60 Hz

Stroke: 0" - 4"

Throat Depth: 12"

Throat Height: 6" - 15"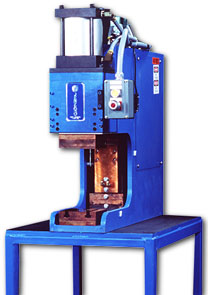 H2BW machine shown with options
Weld Force Multiplier: 28.27 (60psi = 1696 lb. force)

Dimensions (HWD): 33" x 10" x 37 5/8"

Weight (approximate): 535 lbs.
O
ptions
2 stage foot-switch

Various force systems (cylinders)

Other voltages for tap switch

Dual palm buttons

Circuit breaker

Single head table stand

Water flow sight gauge

Electric resetting parts counter

Coolant saver (solenoid valve)

Welding controls available for: Entron, Jenzano, Robotron, WTC and other manufacturers

Dual machine interlocks

Adjustable retracts stroke cylinder

Water/air heat exchanger

Spot welder horns

Assembled/tested SCR contractor panel
Power requirements must be verified at the time of purchase. Specifications are subject to change without notice. Customer assistance in evaluating proposed application is available.