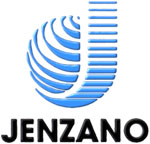 sales@jenzano.com
Telephone: (386) 761-4474 USA

Custom Engineered
Robot Cells

Jenzano's personnel are educated and experienced in the design, manufacture and integration of robotic work cells. Be it high payload material handling robots or precision welding robot systems, Jenzano's experience in robot controls with GM/Fanuc, ABB/Cincinnati Milacron, Miller and Panasonic, will make your custom-designed robot cell more than efficient.
Jenzano robot cells are employed in a large range of applications from MIG, TIG and resistance welding, to material handling.
Jenzano has a close-working relationship with many robot manufacturers. With Jenzano's in-house fabrication and design abilities, your robot cell will be effectively programmed and integrated for optimal ease of use. Our staff of system, tooling, electrical and software engineers will be on hand to ensure a consistent design from start to finish, so that you may avoid any problems concerning system integration.
Power requirements must be verified at the time of purchase. Specifications are subject to change without notice. Customer assistance in evaluating proposed application is available.