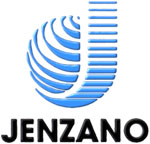 sales@jenzano.com
Telephone: (386) 761-4474 USA

Model ALPHAWCS
Enhanced Alpha Weld Control System

Learning from our customers' experience with the 15 year old Pertron PWC-300 weld control, Jenzano and Square D Controls (Pertron) have joined forces to produce a premier 3-phase welding control.
At the heart of the Enhanced Alpha Weld Control System is the Alpha III Timer Board and fiber-optically isolated firing boards, manufactured by Square D Controls. Combining these components with Jenzano's packaging, enhanced software and customized input/output and control circuitry, the produce is a consistent, flexible and easy-to-use system.
Our design of the Enhanced Alpha Weld Control is driven by the following goals:
Supply our customers with a weld control which will produce the best welds possible

Make a system which is as easy as possible to use, maintain, service and apply to the broadest range of applications

Provide the highest degree of flexibility possible

Offer as many features as possible in the basic package, while maintaining a modular approach

Anticipate the customers' future needs and plan enhancements to meet them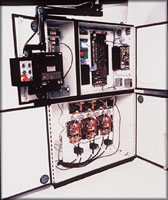 Options
SCR contactor(s)

Customized air controls

DEP programmer

PC-based programmer

Optically isolated firing circuits

Customized cooling circuit

NEMA 12 enclosure

Standard I/O (110 VAC I/O)

Choice of PLC

Fully programmable I/O control

SenScopeŽ Data Acquisition System

Dual or single foot-switch

Programmable air controls

Seam or spot weld configurations

Remote operator controls

Digital instrumentation available

Motor speed control

Multi-processor digital control with LVC

May be purchased modularly to interface with existing equipment (firing circuits, air systems, etc.)

Nugget expansion feedback
Power requirements must be verified at the time of purchase. Specifications are subject to change without notice. Customer assistance in evaluating proposed application is available. Photos shown are of typical configuration and do not necessarily represent the standard product.