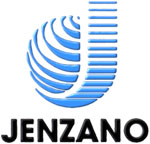 sales@jenzano.com
Telephone: (386) 761-4474 USA

Model 0504
Jenzano
Splice Welder

The Jenzano Splice Welder is industrially hardened and designed to be low-maintenance and compact. With the ability to convert to a standard projection welder or a spot welder, this machine proves to be space-saving and cost-effective.
ADJUSTABLE

LOW MAINTENANCE

DEPENDABLE
Features
Jenzano synchronized microprocessor-based weld control

Converts to standard projection or spot welder

Operator's manual in Spanish and English

Automatic squeeze and hold timers

"Weld" and "No Weld" switch

"Power On" indicator lamp

Jenzano universal firing board

35 KVA weld transformer

100 AMP water cooled SCR pack

Machine duration meter

480 VAC 100 AMP circuit breaker disconnect

Adjustable 2-stage foot-switch

Quick change standard tungsten electrodes

Quick change water cooled electrode holders

Laminated secondary jumper

Adjustable force control

Water saver

Modular electronic circuit components

Air filter/regulator
Built-in exhaust fan

Adjustable work height

Illuminated clamp fixture and work station

Industrial-hardened, low maintenance, compact design

Stand alone floor mount with table top design
Specifications
Wire strand clamp fixture:

1/4" wide x 1/2" deep (max.)

1/32" wide x 3/16" deep (min.)

Stand alone machine: 18" deep x 18" wide x 72" high with 41" work height

OHSA blue polyurethane industrial finish
Power requirements must be verified at the time of purchase. Specifications are subject to change without notice. Customer assistance in evaluating proposed application is available.
Photographs shown are typical configurations and do not necessarily represent the standard product.